Benchmade Aileron 737 knife,Total Black Design Tarani, military knife.
Use: military knife.
STEEL CPM-S30V
HANDLE G-10
BLADE 8.76 cm
THICKNESS mm 3
TOTAL cm 20.4
WEIGHT gr 120
OPENING manual
BLOCK Liner Lock
CLIP reversible
DESIGNER Steve Tarani
ORIGIN USA
Shipping tracking

Secure payments

Online support
Speed, control, and balance are the key factors in this new Steve Tarani designed, AXIS® lock folder from Benchmade. Exclusive laser texturing on the blade and strategically textured, ergonomic G10 handles provide positive grip and handling in all situations and environments. With input from experienced commercial and cargo pilots, and uniquely tailored for the Tarani two-handed opening method, the Aileron® is a one of a kind tactical/utilitarian folder perfect for air or ground use. 
You might also like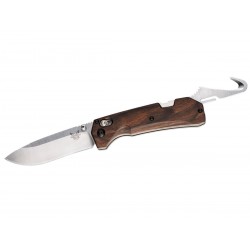 Price
€238.28
Regular price
€259.00