Morakniv Sharpening, 24 cm.
lighter for knives, Mora
 Use: Butcher sharpener / Professional sharpening
The Morakniv Classic 1891 knife series is one of the most beautiful lines of chef knives in the Swedish knife factory. The design is reminiscent of the traditional shapes of Swedish knives.
Handmade in the city of Mora, Sweden, these knives are made of selected steels and hardened by a secret process.
The handle is in Scandinavian birch and is assembled by hand, before adding the metal ring with the symbol of the Dala region.
FORM: Round
LENGTH: 24 cm.
CUT: Standard
HANDLE: Birch (wood)
Shipping tracking

Secure payments

Online support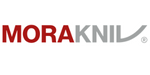 Data sheet
Stainless steel

12C27

Country of Origin

Sweden

Length

da 20 a 25 cm.

Form

Round

Handle

Wood
Morakniv Sharpening, 24 cm.
Morakniv Classic 1891! Now we have taken all the qualities that made ​​Morakniv® so prized by the campfire and joined them with the modern kitchen's needs. The result is a series of beautiful and timeless kitchen knives produced in Mora. And in keeping with our tradition, it is the users that have shaped the outcome.

No customer reviews for the moment.
You might also like
Price
€71.10
Regular price
€79.00