Spyderco Manix 2 G10 Lightweight, Tactical Knife, Military folding knives.
The Manix 2 Back Lock reflects a unique "full circle" design evolution that began with the original Spyderco Manix model back in 2004. This remarkable knife combines the time-tested design and refined ergonomics of the second-generation Manix 2 with a highly evolved back lock mechanism, a unique handle construction, and a versatile four-position clip.
On the "business end," the Manix 2 Back Lock features a full-flat-ground CPM® S30V® stainless steel blade. Its refined, leaf-shaped profile provides a long, curved cutting edge, a sturdy, utilitarian point, and a fully accessible Trademark Round Hole™ for swift, positive, one-handed deployment with either hand. A textured forefinger choil (finger groove) at the base of the blade and a matching thumb ramp on the spine allow the use of a forward grip for enhanced control during detailed cutting tasks.
This knife's unique handle construction does not use stainless steel liners. Instead, it is built with a pair of extra-thick, fine-textured G-10 scales reinforced by a stainless steel backspacer. This reduces the knife's overall weight while providing outstanding structural support for the knife's highly refined back lock mechanism, which boasts both superior strength and amazing smoothness of operation. The back lock mechanism also allows the use of a four-position pocket clip that supports both tip-up and tip-down carry on both sides of the body. Four sets of threaded stainless steel anchors inserted from the interior of the handle ensure rock-solid attachment the hourglass clip and guarantee that this amazingly capable knife is always poised and ready for action.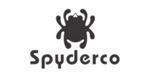 Data sheet
Blade

Folding blade

Knife sharpening

Smooth

Blade Length

8 cm

Weight

From 100 to 150 gr.

Blade Style

Drop-point

Lock Type

Ball Bearing Lock

Stainless steel

CPM-S30V

Handle Material

G-10

Blade Thickness

3 mm

Country of Origin

U.s.a.
Spyderco Manix 2 G10 Lightweight, Tactical Knife, Military folding knives.
The Spyderco Knife.
The Spyderco American Knife Company was founded in 1976 by Sal and Gail Glesser.
Spyderco knives are famous for being the most innovative tactical and sports knives. Over time, they have assumed a predominant position even among the diving knives and the boat knives, which are very popular for H1 steel (water-resistant steel) used for these knives.
Today the typical hole on the blade of Spyderco knives is not only a characteristic of the knife (used to open the blade with one hand), but has become the symbol of this American knives company, also visible in fixed blade knives.
No customer reviews for the moment.