Spyderco Delica Zome camouflage Tactical knife, Military folding knives.
C10ZFPGR Zome Delica® 4 Lightweight Green
This unique expression of the Delica 4 Lightweight combines all the features of this best-selling model with a multi-colored hand-dyed "zome" handle.
Zome (pronounced "zoh-may") is a class of Japanese handicrafts that focuses on dyeing textiles. This ancient art form includes many different methods of creating patterns on cloth using dyes derived from plants, flowers, fruit, and other natural sources and is closely related to many aspects of Japanese history and culture.
Inspired by this rich artistic heritage, Spyderco's Zome knives are unique variations of our lightweight models, which feature injection-molded fiberglass-reinforced-nylon (FRN) handles. The handles are molded in a light base color and then individually hand dyed by expert Japanese artisans. Using a technique reminiscent of traditional hiki-zome (brush dyeing), various colors of dye are hand brushed onto the handle to create distinctive, one-of-a-kind patterns. Like Japan's classical dyeing methods, the special dyes used completely permeate the FRN to permanently color it.
This Delica 4 Lightweight boasts all the defining features of its breed, including a full-flat-ground VG-10 stainless steel blade, a sturdy back lock mechanism, skeletonized stainless steel liners, and a four-position pocket clip. Its injection-molded FRN handle showcases a brilliant hand-dyed zome pattern in shades of green.
If you're looking for a reliable workhorse knife with one-of-a-kind character, this is it.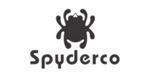 Data sheet
Blade

Folding blade

Knife sharpening

Smooth

Blade Length

7 cm

Weight

From 50 to 100 gr.

Blade Style

Drop-point

Lock Type

Back Lock

Stainless steel

VG-10

Handle Material

FRN

Blade Thickness

2,5 mm

Country of Origin

Japan
Spyderco Delica Zome camouflage Tactical knife, Military folding knives.
The Spyderco Knife.
The Spyderco American Knife Company was founded in 1976 by Sal and Gail Glesser.
Spyderco knives are famous for being the most innovative tactical and sports knives. Over time, they have assumed a predominant position even among the diving knives and the boat knives, which are very popular for H1 steel (water-resistant steel) used for these knives.
Today the typical hole on the blade of Spyderco knives is not only a characteristic of the knife (used to open the blade with one hand), but has become the symbol of this American knives company, also visible in fixed blade knives.
No customer reviews for the moment.