Spyderco Endura 4 V-TOKU2 Sprint, Tactical knife, Military folding knives.
C10FPBLE Endura® 4 Lightweight V-Toku2/SUS410 Sprint
This elite Sprint Run edition of the best-selling Endura 4 Lightweight showcases a three-layer laminate blade with a high-performance V-Toku2 tool steel core. Renowned for its toughness at high hardness, V-Toku2 is a Japanese steel made with Swedish iron ore enriched with tungsten, vanadium, and chromium. To further enhance its strength and provide greater corrosion resistance, the V-Toku2 core of this blade is sandwiched between outer layers of SUS410 stainless steel. The layered construction is evident when the full-flat-ground blade is examined closely, as the transition between the core and outer layers is clearly visible just above the blade's cutting edge. Because V-Toku2 is a true tool steel, it is susceptible to corrosion and must be maintained properly.
All other features of this remarkable knife are consistent with the standard version of the Endura 4 Lightweight, including skeletonized stainless steel handle liners, a stout back lock mechanism, and a four-position pocket clip. Its fiberglass-reinforced-nylon (FRN) handle is also injection molded in a distinctive blue-gray hue that is the signature color of this elite Sprint-Run series of knives.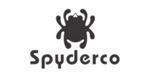 Data sheet
Blade

Folding blade

Knife sharpening

Smooth

Blade Length

9 cm

Weight

From 50 to 100 gr.

Blade Style

Drop-point

Lock Type

Back Lock

Stainless steel

V-Toku2

Handle Material

FRN

Blade Thickness

3 mm

Country of Origin

Japan
Spyderco Endura 4 V-TOKU2 Sprint, Tactical knife, Military folding knives.


The Spyderco Knife.
The Spyderco American Knife Company was founded in 1976 by Sal and Gail Glesser.
Spyderco knives are famous for being the most innovative tactical and sports knives. Over time, they have assumed a predominant position even among the diving knives and the boat knives, which are very popular for H1 steel (water-resistant steel) used for these knives.
Today the typical hole on the blade of Spyderco knives is not only a characteristic of the knife (used to open the blade with one hand), but has become the symbol of this American knives company, also visible in fixed blade knives.
No customer reviews for the moment.