Spyderco Endura 4 lightweight Emerson Opener, Tactical knife, Military folding knives.
In the 1980's, the original Spyderco Endura blazed a trail as one of the first lightweight clip-carry folding knives. Today it remains one of our most popular models and continues to set the standard for all other knives of its breed. Now in its fourth generation, it has also inspired a broad range of variations to meet virtually every user's needs and preferences.
All Endura 4 Lightweights are distinguished by their skeletonized stainless steel liners and injection-molded fiberglass-reinforced-nylon (FRN) handles. This specific version of the design includes a saber-ground VG-10 stainless steel blade, a PlainEdge™ cutting edge, and an Emerson Opening feature. This integral hook on the spine of the blade snags the pocket as the knife is drawn to quickly and automatically pivot the blade open. Invented by renowned custom knifemaker Ernest Emerson, this patented device is licensed for use by Spyderco. The blade is supported by a sturdy back lock mechanism that locks it securely open when in use yet allows easy ambidextrous lock release. Bi-Directional Texturing™ on the handle ensures a positive grip in even the most demanding conditions and its four-position pocket clip can be easily configured for tip-up or tip-down carry on either side of the body.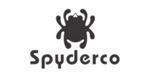 Data sheet
Blade

Folding blade

Knife sharpening

Smooth

Blade Length

9 cm

Weight

From 100 to 150 gr.

Blade Style

Drop-point

Lock Type

Back Lock

Stainless steel

VG-10

Handle Material

FRN

Blade Thickness

3 mm

Country of Origin

Japan
Spyderco Endura 4 lightweight Emerson Opener, Tactical knife, Military folding knives.
The Spyderco Knife.
The Spyderco American Knife Company was founded in 1976 by Sal and Gail Glesser.
Spyderco knives are famous for being the most innovative tactical and sports knives. Over time, they have assumed a predominant position even among the diving knives and the boat knives, which are very popular for H1 steel (water-resistant steel) used for these knives.
Today the typical hole on the blade of Spyderco knives is not only a characteristic of the knife (used to open the blade with one hand), but has become the symbol of this American knives company, also visible in fixed blade knives.
No customer reviews for the moment.
You might also like