Spyderco Military tactical knife C36GPE, Military folding knives.
A cornerstone in Spyderco's Save and Serve line up, the Military Model came about after someone asked Spyderco's owner Sal Glesser, "If your son were going into the military what folding knife would you send him with?" For certain, it had to meet the requirements of a high-performance, light-weight folder designed for hard use.
Since the steel is the spirit of the knife, CPM S30V seemed the logical choice for the blade given its reputation for long-term edge retention and rust resistance. The 'Millie' has a modified clip-point blade laser cut with a 14 mm Spyderco Round Hole for quick deployment and for use with gloves. Texturing above the hole holds the thumb in contact with the blade's spine during cutting for confident control over the sharpened edge. The handle scales are G-10 with the lock's liner nested directly into the scale, pumping up lock strength without the addition of bulky liners. Spacers between the scales create a gap running the handle's full length exposing the inside workings for inspection and cleaning. The handle flares slightly at the front end creating a finger choil and at the butt end, which keeps the knife from slipping forward or backward in the hand while sawing or making tough or aggressive cuts. A contoured black metal clip is set for right-hand tip-down carry.
Made in Golden, Colorado U.S.A. Earth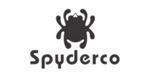 Data sheet
Blade

Folding blade

Knife sharpening

Smooth

Blade Length

10 cm

Weight

From 100 to 150 gr.

Blade Style

clip point

Lock Type

Liner Lock

Stainless steel

CPM-S30V

Handle Material

G-10

Blade Thickness

3,5 mm

Country of Origin

U.s.a.
Spyderco Military tactical knife C36GPE, Military folding knives.
The Spyderco Knife.
The Spyderco American Knife Company was founded in 1976 by Sal and Gail Glesser.
Spyderco knives are famous for being the most innovative tactical and sports knives. Over time, they have assumed a predominant position even among the diving knives and the boat knives, which are very popular for H1 steel (water-resistant steel) used for these knives.
Today the typical hole on the blade of Spyderco knives is not only a characteristic of the knife (used to open the blade with one hand), but has become the symbol of this American knives company, also visible in fixed blade knives.
No customer reviews for the moment.