Spyderco Stick Titanium tactical knife C198TIP, Flat wire, collection knife, folding military knife.
Custom knifemaker Brian Tighe crafts folding knives that are an impressive blend of sophisticated design and meticulous craftsmanship. His first collaboration with Spyderco faithfully captures the magic of his handmade knives and translates it into a truly exceptional factory-made folder called the Tighe Stick.
The Tighe Stick's dramatic upswept blade is ground from high-performance CPM® S90V stainless steel—a vanadium-enriched powder metallurgy steel that offers exceptional resistance to wear and corrosion. Its saber grind offers both strength and low-friction edge geometry and is accentuated by a faceted tanto-style point and a scalloped swedge on the blade's spine. Spyderco's Trademark Round Hole™ in the blade stands proud to provide exceptional leverage for quick one-handed opening with either hand.
This knife's distinctive handle consists of two solid titanium scales that are precision CNC machined to create an intricate sculptured 3-D pattern. The reverse scale forms the foundation of a high-strength Reeve Integral Lock (R.I.L.) mechanism that locks the blade securely when opened. Stainless steel standoffs join the handle halves to create an open-backed construction that reduces the knife's weight and simplifies cleaning, while a reversible clip provides immediate access and a choice of left or right-side tip-down carry.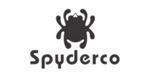 Data sheet
Blade

Folding blade

Knife sharpening

Smooth

Blade Length

10 cm

Weight

From 150 to 200 gr.

Blade Style

Tanto

Lock Type

R.I.L.

Stainless steel

CPM-S90V

Handle Material

Titanium

Blade Thickness

3,5 mm

Country of Origin

Taiwan
Spyderco Stick Titanium tactical knife C198TIP, Flat wire, collection knife, folding military knife.
The Spyderco Knife.
The Spyderco American Knife Company was founded in 1976 by Sal and Gail Glesser.
Spyderco knives are famous for being the most innovative tactical and sports knives. Over time, they have assumed a predominant position even among the diving knives and the boat knives, which are very popular for H1 steel (water-resistant steel) used for these knives.
Today the typical hole on the blade of Spyderco knives is not only a characteristic of the knife (used to open the blade with one hand), but has become the symbol of this American knives company, also visible in fixed blade knives.
No customer reviews for the moment.