Spyderco Memory collectible knife by Frank Centofante, folding military knife.
Use: collection knife / outdoor knife / tactical knife / military knife collection
STEEL VG 10
HANDLE titanium / glass fiber
TOTAL cm 18
BLADE 7.7 cm
THICKNESS mm 2,3
WEIGHT gr 96
BLOCK Liner Lock
CLIP
DESIGN F. Centofante
ORIGIN Japan


Shipping tracking

Secure payments

Online support
There are many things people do know about custom knifemaker Frank Centofante. 
He was a respected knifemaker for forty years.  He was the president of the American Knifemaker's Guild for over a decade and that he passed away in 2009.  Not generally known about Frank is he was a fireman, devoted family man, an occasional prankster and would generously share his secrets of successful knifemaking with anyone who asked.  For many years Frank was a key contributor in educating Spyderco's manufacturing team, teaching them to learn how to recognize, appreciate and build quality knives.  His advice was sage with him saying often "if you can't see the difference…you can't build the difference."  It is in his memory Spyderco releases the C155 Memory folder by Frank Centofante. 
The understated Memory shines with elegant refinement and a blued titanium handle with a silver–colored woven-glass fiber scale layered over the handle's front.  Inside the handle is a Michael Walker designed LinerLock and adorning the back scale is a right-hand, tip-down clip.  Although Frank's custom knives took on varied and different looks, his signature bearing was the spear-point blade.  A trait is carried over to the Memory, with a VG-10 flat-ground classical spear-pointed blade embellished with a Spyderco bug behind the Spyderco Round Hole.  Packaged in a black zippered pouch, the folder will be carried, coveted and is guaranteed to become a key piece to many knife collections and by anyone appreciative of late Frank Centofante and his knife designs.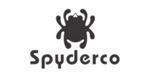 Data sheet
Blade

Folding blade

Knife sharpening

Smooth

Blade Length

7 cm

Weight

From 50 to 100 gr.

Blade Style

Drop-point

Lock Type

Liner Lock

Stainless steel

VG-10

Handle Material

Titanium

Blade Thickness

2 mm

Country of Origin

Japan
Spyderco Memory collectible knife by Frank Centofante, folding military knife.
The Spyderco Knife.
The Spyderco American Knife Company was founded in 1976 by Sal and Gail Glesser.
Spyderco knives are famous for being the most innovative tactical and sports knives. Over time, they have assumed a predominant position even among the diving knives and the boat knives, which are very popular for H1 steel (water-resistant steel) used for these knives.
Today the typical hole on the blade of Spyderco knives is not only a characteristic of the knife (used to open the blade with one hand), but has become the symbol of this American knives company, also visible in fixed blade knives.
No customer reviews for the moment.