Spyderco Centofante III tactical knife C66PBK3, folding military knife.
Spyderco Centofante III tactical knife C66PBK3, folding military knife.
Use: collection knife / outdoor knife / tactical knife / military knife collection
If you move in custom knife industry circles and/or attend knife shows you will have heard of Frank Centofante. In addition to being a celebrated and longtime custom knifemaker Frank is a past President of the Knifemaker's Guild, a strong voice in the cutlery world and a revered and respected craftsman. Collaborating on knife designs with him is something Spyderco has been fortunate enough to do several times. Our latest offering is the Centofante 3 gentleman's folder.
The Centofante 3 has a thin-profiled, lightweight FRN handle. Two channels are furrowed out of the handle for better grip and a Palladium silver Spyderco bug is inlayed into its surface. For added security and convenience the back-lock is positioned midway on the spine and David Boye Dent is cut from the locking lever. The VG-10 blade has both a hollow-grind and swedge-grind with non-sharpened spine serrations (jimping) to hold the thumb steady when cutting. A black steel pocket clip positions for tip-up/down, right-hand carry.
STEEL VG 10
HANDLE FRN
TOTAL 19.4 cm
BLADE 8 cm
THICKNESS mm 2
WEIGHT gr 71
BLOCK Back Lock
CLIP
DESIGN F. Centofante
ORIGIN Japan

Shipping tracking

Secure payments

Online support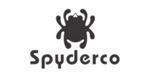 Data sheet
Blade

Folding blade

Knife sharpening

Smooth

Blade Length

8 cm

Weight

From 50 to 100 gr.

Blade Style

clip point

Lock Type

Back Lock

Stainless steel

VG-10

Handle Material

FRN

Blade Thickness

2 mm

Country of Origin

Japan
Spyderco Centofante III tactical knife C66PBK3, folding military knife.
The Spyderco Knife.
The Spyderco American Knife Company was founded in 1976 by Sal and Gail Glesser.
Spyderco knives are famous for being the most innovative tactical and sports knives. Over time, they have assumed a predominant position even among the diving knives and the boat knives, which are very popular for H1 steel (water-resistant steel) used for these knives.
Today the typical hole on the blade of Spyderco knives is not only a characteristic of the knife (used to open the blade with one hand), but has become the symbol of this American knives company, also visible in fixed blade knives.
No customer reviews for the moment.