Spyderco Jot Singh Khalsa C40GP tactical knife, folding military knife.
Use: outdoor knife / tactical knife / military knife
Knifemaker Jot Singh Khalsa is known worldwide for his beautifully crafted custom knives and jewelry. A devout follower of the Sikh religion, he specializes in Kirpans, the sacred and deeply symbolic knives of the Sikhs.  In 2000, he applied his design flair to one of the most unique and rare Spyderco production folders ever produced. Back for the first time as a limited-edition Sprint run, the Khalsa folder combines the intricate artistry of his traditional designs with the functionality of a modern folding knife. It features a VG-10 stainless steel blade, Walker LinerLock™ mechanism, and textured black G-10 handles, all rendered in Khalsa's unmistakable style.
STEEL VG 10
HANDLE G10
TOTAL cm 17.9
BLADE 7.4 cm
THICKNESS mm 3
WEIGHT gr 102
BLOCK R.L.I.
CLIP
DESIGN Khalsa
ORIGIN Japan

Shipping tracking

Secure payments

Online support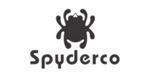 Data sheet
Blade

Folding blade

Knife sharpening

Smooth

Blade Length

7 cm

Weight

From 100 to 150 gr.

Blade Style

Spear-point

Lock Type

Liner Lock

Stainless steel

VG-10

Handle Material

G-10

Blade Thickness

3 mm

Country of Origin

Japan
Spyderco Jot Singh Khalsa C40GP tactical knife, folding military knife.
The Spyderco Knife.
The Spyderco American Knife Company was founded in 1976 by Sal and Gail Glesser.
Spyderco knives are famous for being the most innovative tactical and sports knives. Over time, they have assumed a predominant position even among the diving knives and the boat knives, which are very popular for H1 steel (water-resistant steel) used for these knives.
Today the typical hole on the blade of Spyderco knives is not only a characteristic of the knife (used to open the blade with one hand), but has become the symbol of this American knives company, also visible in fixed blade knives.
No customer reviews for the moment.