Spyderco tactical knife, Karahawk C170GP, folding military knife. (karambit)
Use: collection knife / outdoor knife / tactical knife / military knife / karambit
The Karahawk is a highly evolved folding version of the traditional Southeast Asian karambit.  Its gently curved hawkbill blade is precision machined from VG-10 stainless steel and features both our Trademark Round Hole and an Emerson Opening Feature to ensure swift, positive blade deployment.  It is supported by a high-strength back lock mechanism designed to withstand the stresses of defensive use and mated to a handle constructed of full skeletonized stainless steel liners capped with textured G-10 scales.  The handle features a ring at the butt to facilitate traditional karambit manipulation techniques and is sized to keep the knife exceptionally compact and easy to carry.  New and improved, the ring on the current version of the Karahawk is reinforced with a machined G-10 insert and its edges radiused and polished for high-speed manipulation. A reversible hourglass clip supports tip-up standard-grip and reverse-grip carry on both sides of the body.
STEEL VG 10
HANDLE G10
TOTAL 16.5 cm
BLADE 6 cm
THICKNESS mm 2,5
WEIGHT gr 108
BLOCK Back Lock
CLIP
ORIGIN Japan


Shipping tracking

Secure payments

Online support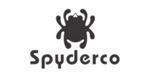 Data sheet
Blade

Folding blade

Knife sharpening

Smooth

Blade Length

6 cm

Weight

From 100 to 150 gr.

Blade Style

Hawkbill

Lock Type

Back Lock

Stainless steel

VG-10

Handle Material

G-10

Blade Thickness

2,5 mm

Country of Origin

Japan
Spyderco tactical knife, Karahawk C170GP, folding military knife. (karambit)
The Spyderco Knife.
The Spyderco American Knife Company was founded in 1976 by Sal and Gail Glesser.
Spyderco knives are famous for being the most innovative tactical and sports knives. Over time, they have assumed a predominant position even among the diving knives and the boat knives, which are very popular for H1 steel (water-resistant steel) used for these knives.
Today the typical hole on the blade of Spyderco knives is not only a characteristic of the knife (used to open the blade with one hand), but has become the symbol of this American knives company, also visible in fixed blade knives.
No customer reviews for the moment.