Spyderco tactical knife, Enuff Sheepfoot FB31SBK, folding military knife.
Experienced knife users know how to get the most performance and control out of their knives. For most cutting chores, the closer the material being cut is to the "heel" of the blade (the part of the sharpened edge closest to the handle), the more leverage and control the user will have. 

So how much blade is just enough? The answer to that question is Spyderco's Enuff series—a family of three knives that share a common handle, overall size, and sheath design, but offer distinctly different blade styles. Enuff blade shapes include a clip point, a leaf-shaped blade, and a sheepfoot, all with a 2.75-inch blade length that provides outstanding cutting performance in an amazingly compact package. 

All three Enuff knives feature skeletonized full-tang construction for strength and light weight. The blades are ground from VG-10 stainless steel, a workhorse material that offers a superior balance of cutting performance, corrosion resistance, edge retention, and ease of sharpening. The clip point and leaf-shaped blades are both plain edged and full-flat ground to yield exceptional edge geometry for precision cutting chores and point utility.

The sheepfoot Enuff is saber ground and features a straight SpyderEdge cutting edge that is ideal for safely cutting seat belts, webbing, rope, and similar materials in the high stress of a critical incident.

All three Enuff knives feature identical scales injection molded from durable fiberglass-reinforced nylon. The scales are contoured to provide a hand-filling grip and boast Spyderco's signature Bi-Directional Texturing™ pattern. 

The knives in the Enuff series also use the same injection molded polymer sheath design. It features two "ears" at the mouth that snap around the leading edge of the handle scales to hold the knife securely in place when sheathed. Spyderco's angle-adjustable G-Clip attachment supports both belt carry and clip-style inside-the-waistband carry. 

The Enuff series is a truly unique concept in fixed-blade knives that sets a new standard for compact yet full-service cutting utility.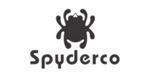 Data sheet
Blade

Fixed

Knife sharpening

Smooth

Blade Length

7 cm

Weight

From 100 to 150 gr.

Blade Style

Drop-point

Lock Type

without blade lock

Stainless steel

VG-10

Handle Material

FRN

Blade Thickness

4 mm

Country of Origin

Japan
Spyderco tactical knife, Enuff Sheepfoot FB31SBK, folding military knife.
The Spyderco Knife.
The Spyderco American Knife Company was founded in 1976 by Sal and Gail Glesser.
Spyderco knives are famous for being the most innovative tactical and sports knives. Over time, they have assumed a predominant position even among the diving knives and the boat knives, which are very popular for H1 steel (water-resistant steel) used for these knives.
Today the typical hole on the blade of Spyderco knives is not only a characteristic of the knife (used to open the blade with one hand), but has become the symbol of this American knives company, also visible in fixed blade knives.
No customer reviews for the moment.