Spyderco tactical knife, Stretch C90CFPE, folding military knife.
Use: outdoor knife / tactical knife / 
collection knife
ZDP-189 blade steel is the hottest, hardest and highest performing blade steel in the knife industry today. 3% of its component ingredient is pure carbon making the steel harder and in turn extending its edge retention. At press, Spyderco was one of a handful of cutlers around the world working with ZDP-189 blades, offering it on several models including their C90 Stretch folder.
The C90 Stretch started as a pet-project lockback knife design. Spyderco's owner and chief designer made it for his personal use, incorporating features he wanted. He wanted high performance blade steel with edge retention super-powers for outdoor cutting: things like wood, rope and anything encountered in the wild. It had to work equally well indoors on cardboard, mail and fingernails. He sized it so it wouldn't scare non'knife people and made it look slick on the off chance he'd someday have to wear a suit. The handle is peel-ply carbon fiber, with a four-way clip, left/right-hand and tip-up/tip-down. Blade is full flat ground, solid ZDP-189. The C90CFP exemplifies all that is Spyderco, function, high performance, advanced materials and workmanship in an out-of-the-ordinary package.
STEEL ZDP-189
HANDLE Carbon Fiber
TOTAL 20.2 cm
BLADE 8,9 cm
THICKNESS mm 3
WEIGHT gr 110
BLOCK -
CLIP ambidextrous
ORIGIN Japan

Shipping tracking

Secure payments

Online support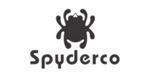 Data sheet
Blade

Folding blade

Knife sharpening

Smooth

Blade Length

8 cm

Weight

From 100 to 150 gr.

Blade Style

Drop-point

Lock Type

Liner Lock

Stainless steel

ZDP 189

Handle Material

Carbon

Blade Thickness

3 mm

Country of Origin

Japan
Spyderco tactical knife, Stretch C90CFPE, folding military knife.
The Spyderco Knife.
The Spyderco American Knife Company was founded in 1976 by Sal and Gail Glesser.
Spyderco knives are famous for being the most innovative tactical and sports knives. Over time, they have assumed a predominant position even among the diving knives and the boat knives, which are very popular for H1 steel (water-resistant steel) used for these knives.
Today the typical hole on the blade of Spyderco knives is not only a characteristic of the knife (used to open the blade with one hand), but has become the symbol of this American knives company, also visible in fixed blade knives.
No customer reviews for the moment.