Spyderco Viele C97BMP Tactical knife, folding military knife.
Use: Tactical knife / outdoor knife / army knife collection
Howard Viele has been a leading member of the Knifemaker's Guild since 1976. His designs are visually identifiable and carry his personal stamp: tactical, modern, gentlemanly and tapered. The Spyderco/Viele wears this signature appearance embodying flowing lines and a high-tech tone. Its VG-10 blade is hollow-ground to further enhance the folder's overall tapered look.
Marking it as a Viele design is his signature logo of three small parallel holes and a circular symbol which represent the Japanse God of War. Positioned to maintain the intergrity of the blade's sleek shape, the Spyderco Trademark Round Hole is somewhat smaller than normally found on Spyderco knives. Texturing along the blade's spine is designed to grip the thumb's pad keeping it in contact with the top of the blade for added responsiveness and control over the cutting edge. An all-stainless handle is blanketed on the back by a scale of black woven G-10 and the handle's front scale is partly superimposed with a tile of black Micarta. The Micarta tile cuves downward near the blade giving the inpression of a bolster. An open spine with spacers lessens bulkiness and weight and facilitates cleaning and drying the knife's inner workings. Its black steel clothing clip carries tip-down.  
STEEL VG10
HANDLE Black Micarta
TOTAL cm 17,1
BLADE 7.3 cm
THICKNESS mm 3
WEIGHT gr 91
BLOCK liner lock
CLIP
ORIGIN Japan

Shipping tracking

Secure payments

Online support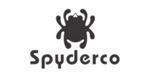 Data sheet
Blade

Folding blade

Knife sharpening

Smooth

Blade Length

7 cm

Weight

From 50 to 100 gr.

Blade Style

clip point

Lock Type

Liner Lock

Stainless steel

VG-10

Handle Material

Micarta

Blade Thickness

3 mm

Country of Origin

Japan
Spyderco Viele C97BMP Tactical knife, folding military knife.
The Spyderco Knife.
The Spyderco American Knife Company was founded in 1976 by Sal and Gail Glesser.
Spyderco knives are famous for being the most innovative tactical and sports knives. Over time, they have assumed a predominant position even among the diving knives and the boat knives, which are very popular for H1 steel (water-resistant steel) used for these knives.
Today the typical hole on the blade of Spyderco knives is not only a characteristic of the knife (used to open the blade with one hand), but has become the symbol of this American knives company, also visible in fixed blade knives.
No customer reviews for the moment.