Spyderco Spydersaw T02S rescue knife, folding military knife.
Use: survival knife / outdoor knife / tactics knife / knife rescue
When we set out to create a Spyderco saw we drew from our knifemaking knowledge incorporating many of our best knife features into a pocket-sized folding saw. Those features include: One-hand opening, premium blade steel, Spyderco cutting performance and a pocket clip.
For convenience the SpyderSaw has the Spyderco Round Hole allowing you to open the blade one-handedly. The AUS-6 steel blade has toothy dual level serrations off-set on both sides of the blade providing excellent bite and tear. Integrated into the FRN handle is a tip-up positioned pocket clip and a back lock with a David Boye Dent in the lock release lever. The Boye Dent is a refined safety feature, helping eliminate unintentional release of the lock if you're gripping the handle tightly. The SpyderSaw is intended for sawing wood, bone and fibrous materials, making it a useful tool for campers, paddlers, hunters, and for pruning, and yard chores.
STEEL Aus 6
HANDLE FRN
TOTAL cm 26.5
BLADE 12.4 cm
THICKNESS mm 1,5
WEIGHT gr 84.5
BLOCK -
CLIP
ORIGIN Japan

Shipping tracking

Secure payments

Online support
You might also like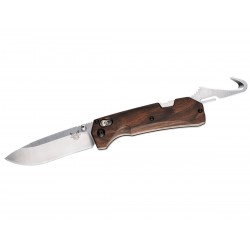 Price
€238.28
Regular price
€259.00