Ka Bar Adventure Baconmaker knife, military Ka bar outdoor knife. (military knife / survival knives)
The Baconmaker, the most aggressive Adventure - is the ideal knife for pig hunting. Made from 1095 cro-van, this blade is built to withstand any abuse and never fail, while the overall geometry of the knife provides optimal thrusting power, perfect for attacking pigs. The glass-filled nylon grip gives you unparalleled control, thanks to an ergonomic multi-position grip that has been finished with our patented Adventuregrip texture. The sheath is specially designed to offer multiple carrying options, including MOLLE, and its large bag is perfect for hunting necessities like rubber gloves, sharpening tools, Adventurecord or whatever else you need.
With the knife and the sheath The Piggyback 5599 fixed blade knife - the smallest Adventure blade - is also supplied as standard, which cuts like a knife twice its size. It takes up no more space than a medium-sized folding knife, and the deep belly shape and short clip point are designed to "unzip" work. The grip points and the back allow for even the most delicate jobs and the simple design of the knife makes cleaning a breeze. The Piggyback is 6 "overall with a 2.75" blade and weighs just over an ounce.
Baconmaker ::
STEEL 1095 Cro-Van Carbon steel
HANDLE Brown nylon GFN-PA66
BLADE 18.1 cm
THICKNESS 6.4 mm
TOTAL 32 cm
WEIGHT 386 g
SHEATH Polyester (MC - MOLLE compatible)
DESIGNER Steve Johnson
ORIGIN Made in the USA
Piggyback :
STEEL 5Cr13 Stainless steel
HANDLE 5Cr13 Stainless steel
BLADE 7 cm
THICKNESS 2.8 mm
TOTAL 15.2 cm
WEIGHT gr 30
SHEATH plastic
ORIGIN Made in China

Shipping tracking

Secure payments

Online support
You might also like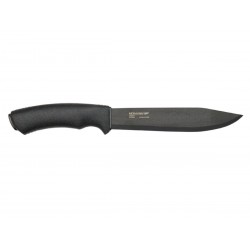 Price
€70.56
Regular price
€78.40