Coltello tattico Spyderco Enuff Leaf FB31PBK, coltello militare chiudibile. (pocket knife, tactical knife).
Uso: coltello da collezione / coltello outdoor / coltello tattico / coltello militare da collezione/ coltello da collo
ACCIAIO VG10
MANICO FRN
TOTALE cm 17,1
LAMA cm 7
SPESSORE mm 4
PESO gr 108
BLOCCO -
FODERO Boltaron
ORIGINE Japan
spedizione gratis

pagamenti sicuri

supporto cliente
Experienced knife users know how to get the most performance and control out of their knives. For most cutting chores, the closer the material being cut is to the "heel" of the blade (the part of the sharpened edge closest to the handle), the more leverage and control the user will have. 

So how much blade is just enough? The answer to that question is Spyderco's Enuff series—a family of three knives that share a common handle, overall size, and sheath design, but offer distinctly different blade styles. Enuff blade shapes include a clip point, a leaf-shaped blade, and a sheepfoot, all with a 2.75-inch blade length that provides outstanding cutting performance in an amazingly compact package. 

All three Enuff knives feature skeletonized full-tang construction for strength and light weight. The blades are ground from VG-10 stainless steel, a workhorse material that offers a superior balance of cutting performance, corrosion resistance, edge retention, and ease of sharpening. The clip point and leaf-shaped blades are both plain edged and full-flat ground to yield exceptional edge geometry for precision cutting chores and point utility.

The sheepfoot Enuff is saber ground and features a straight SpyderEdge cutting edge that is ideal for safely cutting seat belts, webbing, rope, and similar materials in the high stress of a critical incident.

All three Enuff knives feature identical scales injection molded from durable fiberglass-reinforced nylon. The scales are contoured to provide a hand-filling grip and boast Spyderco's signature Bi-Directional Texturing™ pattern. 

The knives in the Enuff series also use the same injection molded polymer sheath design. It features two "ears" at the mouth that snap around the leading edge of the handle scales to hold the knife securely in place when sheathed. Spyderco's angle-adjustable G-Clip attachment supports both belt carry and clip-style inside-the-waistband carry. 

The Enuff series is a truly unique concept in fixed-blade knives that sets a new standard for compact yet full-service cutting utility.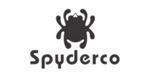 Filtri di riferimento
Lama

Fissa

Affilatura

Liscia

Lunghezza Lama

7 cm

Peso

da 100 a 150 gr.

Tipo di punta

Drop-point

Blocco Lama

Privo di Blocco Lama

Acciaio Inox

VG-10

Manico

FRN

Spessore lama

4 mm

Paese di provenienza

Giappone
Coltello tattico Spyderco Enuff Leaf FB31PBK, (tactical knife).
Storia del coltello Spyderco. 



L'azienda di coltelli americana, Spyderco, fondata nel 1976 da Sal e Gail Glesser, si è distinta negli ultimi anni per la produzione dei più innovativi coltelli tattici e sportivi. 

Fin dalla sua fondazione, la Spyderco è stata un pioniere nel campo della coltelleria, introducendo già nei suoi primi modelli, il noto foro tondo nella lama, che ne consentiva l'apertura con una sola mano.

Oggi il caratteristico foro tondo sulla lama, come il loro particolare bordo seghettato, per prestazioni di taglio più aggressive, non sono più semplici caratteristiche delle lame Spyderco, ma costituiscono una vera e propria firma della casa made U.s.a. che ormai introduce questi elementi anche in coltelli non pieghevoli.

Non da ultimo si ricorda la particolare attenzione che questa casa dedica al settore della nautica. In particolare tra coltelli americani, sono noti i coltelli da sub Spyderco, particolarmente richiesti, proprio per via della loro particolare lama seghettata, nonché per la resistenza delle loro lame all'acqua.
Oggi la Spyderco, è cresciuta notevolmente fino a diventare leader nella produzione di coltelli outdoor, costruendo una rete di distribuzione mondiale in Stati Uniti, Giappone, Taiwan, Italia e Cina. 
Iscriviti e lascia un commento a questo prodotto!