Herbertz knife Top-Collection Folding 531012
Herbertz knife Top-Collection Folding 531012
Use: Hunting knife / survival knife
STEEL AISI 440 st.st.
HANDLE G-10
BLADE 9.8 cm
TOTAL 21.6 cm
WEIGHT gr 192
BLOCK Liner LOCK
CLIP
SHEATH Nylon
Shipping tracking

Secure payments

Online support
Herbertz
Herbertz has a long tradition in the production of hunting knives and survival knives. Founded by Carl Julius Herbertz in 1868 in Solingen, Germany, since then Herbertz has grown to become one of the most famous companies in the production of hunting knives in Germany and the rest of Europe.
Today, in addition to the production of its line of knives, this German company collaborates for the distribution of other famous brands, some of which are also present here on Knife Park, such as Opinel, Puma Tec, Buck, Martiini and others.
You might also like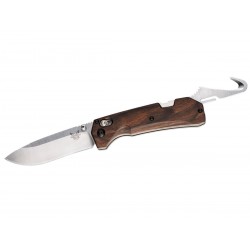 Price
€238.28
Regular price
€259.00